Product Challenger
According to the ISG Provider Lens, quadrants are created using an evaluation matrix containing four segments (Leader, Product & Market Challenger and Contender), and the providers are positioned accordingly.
QA Consultants is situated in the Product Challenger quadrant. Product Challengers are defined as those who offer a product and service portfolio that reflect excellent service and technology stacks. Such providers and vendors deliver an unmatched broad and deep range of capabilities. QA Consultants show evidence of investing to enhance market presence and competitive strengths.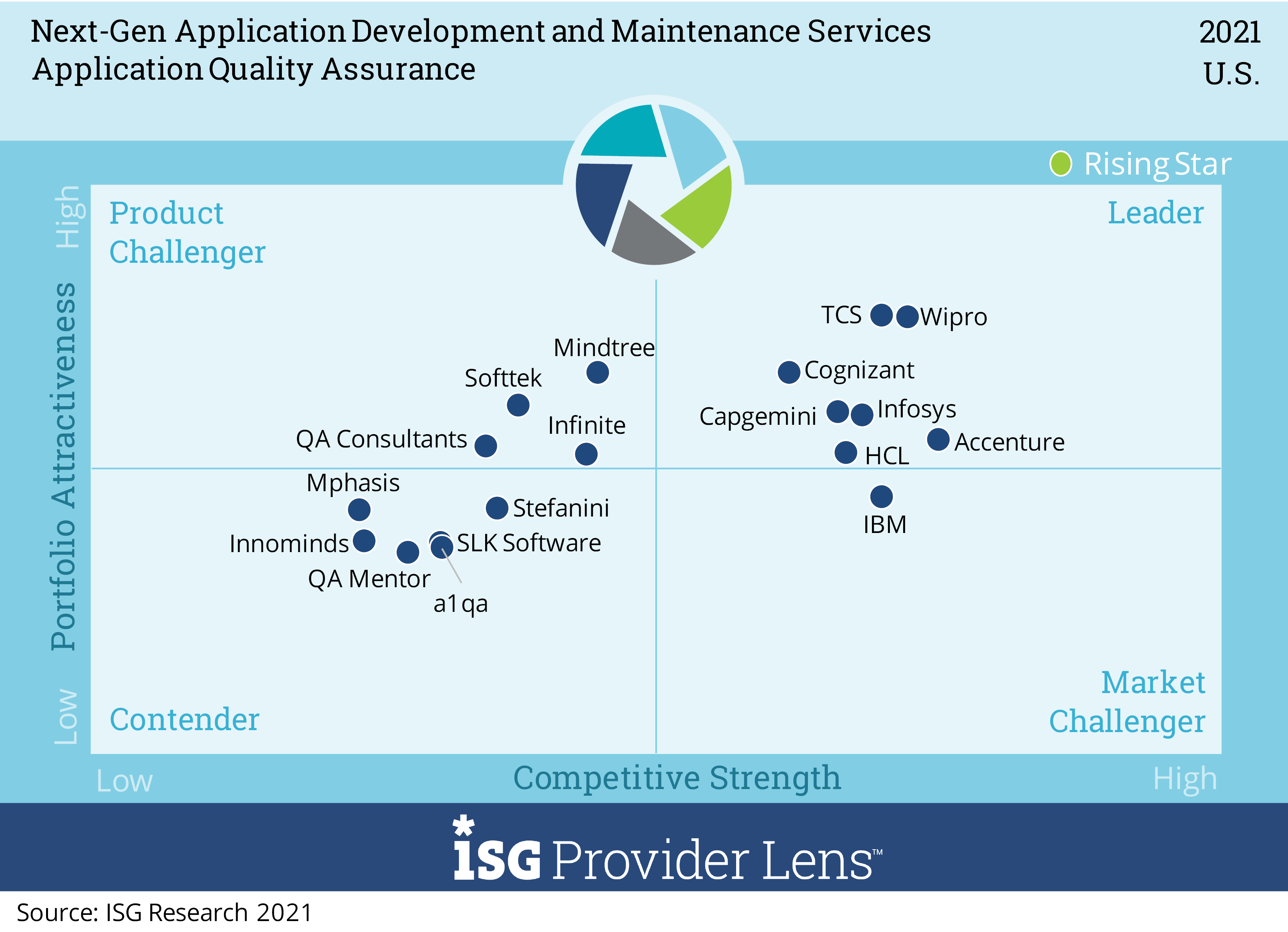 Strengths
An experienced team with a complete onshore proposition: The company's resource pool comprises senior executives from rich consulting and diverse engineering backgrounds. All its resources are based onshore, with a deep focus on return on quality (ROQ).

Emerging technology focus: QA Consultants has a dedicated practice focused on offerings around emerging technologies (EmTech), covering areas such as autonomy and robotics, AI, IoT, automotive, cybersecurity, and variant systems. It has developed around 40 tools and accelerators, has 32 participating executives (PhDs and engineers), multiple patents pending, and six FTEs in this practice. The EmTech practice has developed eight market-facing solutions in areas such as automotive system integration testing, cognitive systems, map data testing, model-based testing, and automotive cybersecurity.

Continuous quality test lab called The Test Factory™: The company, in association with the National Research Council of Canada, has established a 30,000 square foot testing facility, industrializing the best quality assurance (QA) practices/methodologies and offering cost-effective QA services to clients.

Expertise in on-demand and Quality as a Service: The company has successful client references in the realm of on-demand and Quality-as-a-Service models, offering financial flexibility (pay-per-use) along with the ability to timely provide the right resources (smart staff augmentation).
Diverse services portfolio: The company offers an array of next-gen QA services, including test automation, cloud performance engineering, IoT quality and compliance, application technical debt reduction, application cybersecurity, continuous quality, and advisory services.